Startup production of U-bends out of iron and inox tubes.
Assembling of a new bending machine for U-bends to get a higher rate of production than we used to, running exclusively the production of one specific item, which results into a real huge reduction of manufacturing costs.
We are building our new test room to check imperfections on incoming materials, tolerances, production faults.
In September 2008 we changed our packaging, making easier to immediately identify the content of each cardboard box, thus simplifying handling and stocking of the goods. Furthermore on every box the date and the batch of production are clearly indicated, with an additional production card number linked to every step useful for traceability (from purchase, to manufacturing, to testing and delivery) and a progressive number on each box containing goods from the same lot reference.

Double protection film is now usually wrapped around all our pallets: besides a polyethylene film outside the boxes we add a waterproof plastic blanket sort of on the top of the boxes we put on the pallet, thus providing a really efficient barrier against water infiltrations and/or humidity, keeping safe both cardboard boxes and items.
In spring we have already set up a new upgraded computerized washing system for the parts, which besides being respectful of environment and of man enables us to supply our products in even better conditions then ever, as we are the only supplier adopting double washing for all items.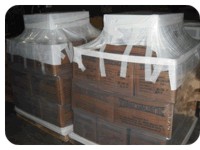 The above is just a part of our quality control plan we started with in July 2008, which we are still improving.
As a company we have always aimed at excellent quality and service. thanks to our constant efforts, inputs from outside and customers' appreciation of our proposals, we succeeded in keeping a high standard both in quality and in service.
We are willing to go on that way, while looking at new needs rising in the market, and regarding that usual attitude of ours as a real task toward our customers.