We manufacture parts out of
---
Copper, aluminum, inox, cupro-nickel and iron.
Our additional customized solutions
---
We can put forward some special finish on both ends of our standard models of U-Bends thus solving particular technical requirements:
Calibration: this production process consists in making both ends perfectly circular (to initial outer diameter of the tube) and also parallel to allow easier fitting in the final insertion-spots, ensuring perfect brazing of our U-bends.
Reduced outer diameter: it may occur that some special diameters on both ends are required and in that case we can reduce outer diameter at both ends of our U-bends, thus obtaining a smaller dimension than the initial one in a diameter which us not so widespread.
Enlarged outer diameter: in case you require some special outer diameter on both ends of our U-bends, we can get to such result, obtaining a smaller less widespread size.
Brazing rings: we can increase initial outer diameter at both ends of our U-bends, obtaining a wider dimension than the original one, in order to better fit to fixed size spots.
Most required widespread models
---
On request all models can be also fitted with specific special rings with addition of AG 2% or even AG5%.
With reasonable tooling sharing costs we can also manufacture the new tooling required to get models which are not yet listed. In case you cannot find here the dimensions you need or even in case you just wish to ask for further information, please get freely in touch with our sales office.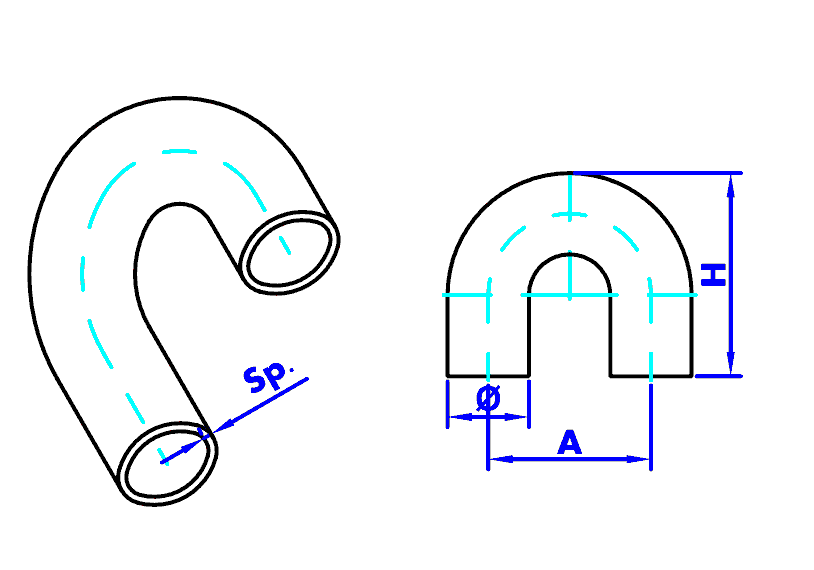 How to calculate height H
---
U-bends we manufacture may be of different Heights in a range you can check as follows by using a simple formula:

MINUMUM HEIGHT
HALF DIAMETER + HALF CENTRE-TO-CENTRE + 5 mm.

MAXIMUM HEIGHT
MINUMUM HEIGHT + 30 mm.
Example in mm on diameter Ø 9,52mm. x Centre-to-centre A 25mm.:
( (9,52 + 25) / 2 ) + 5 = 22,26mm. Min.
( 22,26 + 30 ) = 52,26mm. Max.
Sizes List
---
Diameter Ø
mm.

Wall thickness Sp.
mm. min-max

Centre-to-centre A
mm. min-max
6

0,7

20
6,35

0,7

20 - 50
7

0,4 - 0,7

16,5 - 43,3
7,94

0,4 - 0,7

17,6 - 30
8

0,4 - 0,5

17,6 - 30
9,52

0,4 - 0,7

17,7 - 70
11,5

0,5 - 0,8

30 - 33,5
12

0,5 - 0,7

30 - 70
12,7

0,56 - 0,75

30 - 70
14

0,5 - 1

35 - 60
15

0,5 - 1

37,5 - 70,7
15,5
1
42,5 - 60
15,88
0,5 - 1
40 - 90
18
0,8 - 1
36 - 90
20
0,8 - 1
45 - 54
22
1
45 - 63